Congratulations to the following students/teams who qualified as Scholar Athletes for the Winter 2022-23 sports season: Teams: Varsity Girls Basketball (combined average of 93.78) Individuals: Kylie DeMaio McKenzie Hynes Ryleigh Goodchild Tea Mattice MiKayla Wright Elizabeth Losee Addy Hynes Savannah Petterson Lexi DeMaio Aurora Stingel Collin Lyke Logan Vamosy Chris Garofolo Jordan Johnston
Good evening. Roxbury CSD will operate on a 2 hour delay for Wednesday, March 15th. Thank you
Due to current weather conditions and forecast, Roxbury CSD will be closed today. Thank you
Good morning, Due to the weather forecast, Roxbury is canceling all after school activities for Monday, March 13th. Thank you.
Please be reminded that students are walking on the sidewalks and crossing the driveway both before and after school. Please use caution when entering the circle in front of the school during those times. Backing up out of the circle is extremely dangerous - avoid doing this and wait for vehicles to exit in front of you. Thank you for continuing to support our community.

A reminder that there is a mandatory informational Spring sports meeting being held in the Cafetorium tonight, Thursday, March 2nd 2023 at 6:00 PM. Topics to be discussed include information pertinent to each respective sport, expectations of conduct, practice/game scheduling, and other generalized content related to the Spring sports season. Both student-athletes and parents are to attend this event.
Homework help for students in grades 7-12 has been cancelled for today (3/1/2023).
Good evening. Due to weather forecast, Roxbury CSD will be closed tomorrow 2/28. Thank you.

A reminder that the Spring Sports Informational Meeting will take place this Thursday, March 2nd, at 6pm in the Cafetorium. Both parents and student-athletes need to attend.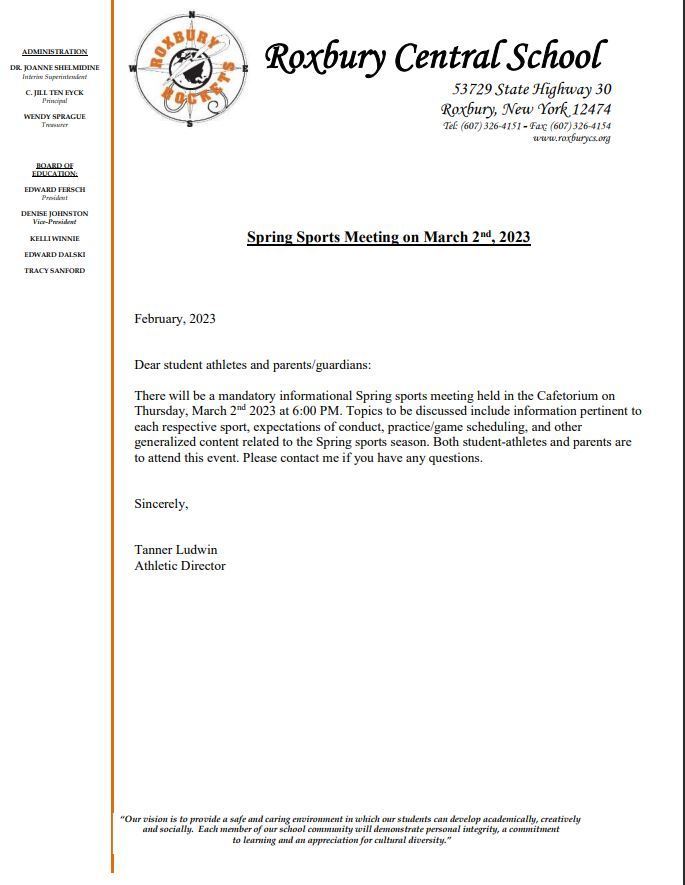 A reminder that RCS is looking for community members to sit on the interview committee for the Superintendent position. On March 21st and 22nd, the finalists for the position will be invited to spend time in the district and meet with various stakeholder groups. One of these groups will be made up of community members. The interview group will be limited to 7 participants and the interview will take place in-person during the school day at a time yet to be determined. Dr. Huber will be hosting a mandatory zoom meeting for the participants from the various stakeholder groups on March 13 at 6:30. This session will review the format of the interviews and the development of questions. Anyone interested in participating should contact Marianne Schor at (607)326-4151 ext. 2014, or by email at
schorm@roxburycsd.org
. If more than 7 people indicate their interest in participating, the district will draw names at random to select the group. Everyone selected must attend the training session.

A reminder that our RCMT half day is scheduled for this Friday, the 17th. Due to staff training that afternoon, ALL students will leave the building at noon, and there will be no all -day or afternoon BOCES. This Winter Olympics will be held in the morning, and any of those BOCES students who wish to participate should let Mrs. Ten Eyck know so arrangements can be made for them to be at the school prior to the beginning of the event. Please contact Ms. Ten Eyck or Ms. Shapiro if you have any questions.
Today, Tuesday, 2/14, our RCS 10th and 11th graders are participating in an ASVAB Posttest Session. During this time students will find out their scores from the January test, learn about the breakdown of the score, and what types of careers they might match well with (careers both in the military and outside of the military organization).

7-12 grade Homework Help is cancelled for today.
Good morning, Over the weekend, the district became aware of an implied threat of violence made by a student earlier in the week on social media. Together, with law enforcement, immediate action was taken to both investigate the threat and to ensure the safety of our campus prior to the arrival of students and staff this morning. Law enforcement has determined that there is no threat based on the facts and evidence gathered. Law enforcement will be represented in the school this week as an additional support for our students and staff. I am grateful that our focus of "See Something, Say Something" has resonated with our students, as it was our students who came forward with this concern. The safety and security of our students and staff is a high priority and by working together, we all can make our school safer for everyone. Thank you for partnering with us.
Erin's Law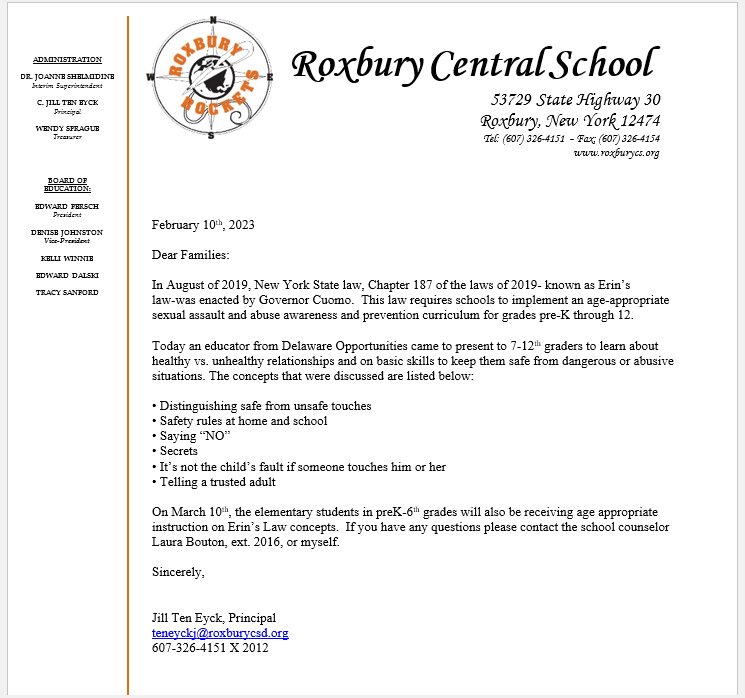 A reminder that the Boys varsity Basketball team will finish out the year against Windham today, at home, at 5:30. Also, with a victory over Margaretville last night, the Girls varsity Basketball team will head to Hunter tomorrow (Friday 2/10) to play HTC at 5:30. Lastly, congratulations to our boys modified team on completing their undefeated season as well as the girls modified team on a terrific season as well!
Thank you to the Delaware County Sheriff's Deputy and the K-9 unit for assisting us with our Hold in Place Drill.

Boys Varsity will have their last game of the season this Thursday (2/9), home against Windham, at 5:30. Girls Varsity plays tonight (2/8) home against Margaretville at 5:30. Boys modified will play before at 4:30.

The girls modified game on Wednesday, 2/8, at Gilboa has been cancelled. It will not be made up.

Boys Varsity Game tonight @ HTC at 5:30! Girls Varsity secured a home game for the league tournament on Wednesday (2/8) at 5:30. The boys modified game against South Kortright originally scheduled for 5:00 that day (2/8) will now be moved up to 4:30 to accommodate the varsity game.