We are seeking multiple ways to service the continued health needs of our students. Bassett Health Clinic would be on be of those options. What we need from you is the completion of the attached survey to finalize this opportunity for our students at Roxbury. The survey contains information needed by Bassett Hospital to finalize their decision on bringing the School Based Health Clinic to our school.
https://forms.gle/bDfv6zRhuYNE34Tf8

The give-back days for this year will be May 27th and June 10th. There will be no school on those days.

4-27-22: The boys varsity baseball game scheduled to be played at Margaretville today will now be played at RCS. Also, the tennis match for today has been postponed.

The tennis match for today has been cancelled.

Congratulations to Brett Morrison, Class of 2022 Valedictorian, and Kerri Ann Moore, Class of 2022 Salutatorian. Brett will be attending Clarkson in the fall, majoring in Engineering. Kerri will be attending Hartwick in the fall, majoring in Nursing. Your RCS family is so proud of you! We can't wait to see what amazing things you do next!

The Girls Varsity softball game has been postponed, and they will practice from 5-7 tonight. The Girls Modified softball game has been postponed and there will be no practice today.
Reminder - There will be NO CROP Wednesday, 4/20. Homework help will be self-transport.

Good morning Roxbury central school will be closed today Tuesday April 19 Thank you and have a safe day
The Boys Varsity Baseball game for today has been postponed.


The varsity boys baseball game and varsity girls softball games are cancelled for today. There will also be no girls softball practice today.

Good afternoon We will be sending home COVID test kits to all students and staff today. These tests are for your use when the students return from the vacation week. Thank you

There will be a public hearing tonight at 7:00pm in the school library on the proposed Capital Reserve Fund Project. The vote to release the Reserve Funds for this project will take place on Thursday, April 7. If you are unable to attend, the following link will be available. Please click the link below to join the Public Hearing:
https://E2CCB-GST.zoom.us/j/98029754420?pwd=UnQyV25lb1krYktvUVBVN29iVWg2Zz09
Passcode: 817535

Boys modified baseball practice for today has been cancelled.

There will be a special Board of Education meeting on Tuesday, April 5, 2022 immediately following the Public Hearing on the Capital Reserve Building Project with the expected purpose of going into executive session to discuss the Superintendent's evaluation.

Good morning, Attached is our COVID update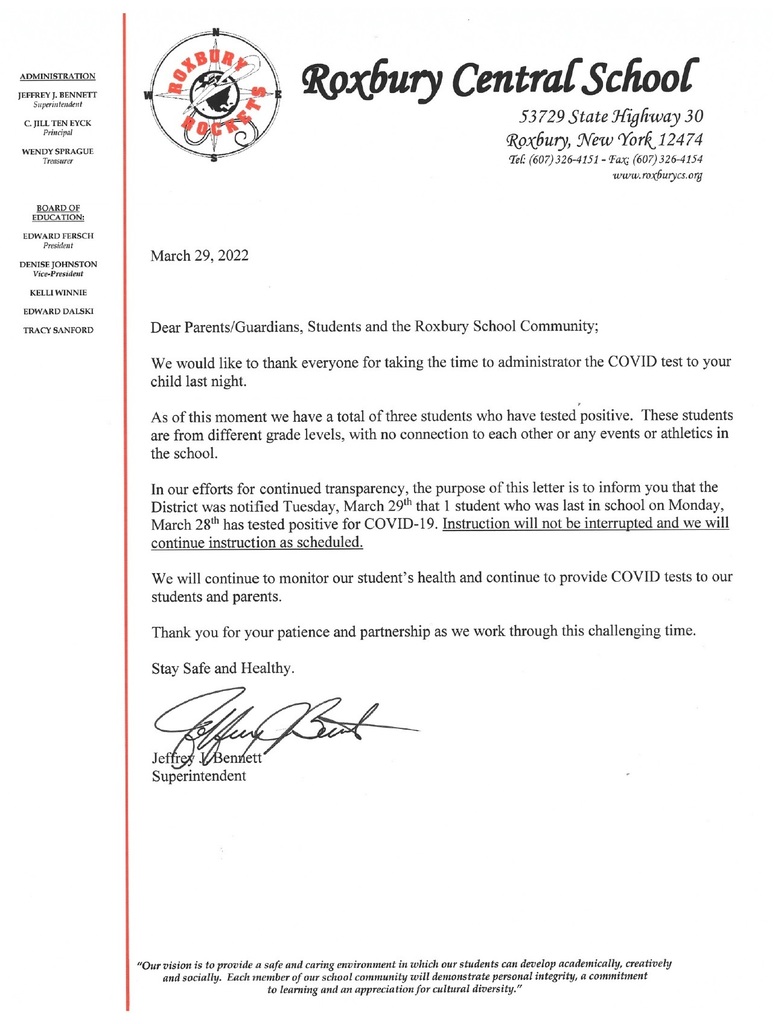 Good afternoon Today we will be sending home COVID tests for all students and staff. I have attached two letters to the tests. Should you have any questions please contact me